---
Amazon: Rewarding Capital & Labour!
---
| | | | |
| --- | --- | --- | --- |
| | | | |
Amazon (NASDAQ: AMZN), the world's largest e-commerce retailer outside of China, reported another superb financial result at the end of last week as the company continues to disrupt the brick-and-mortar stores. Amazon's share price jumped to a record high US$1,100 and Jeff Bezos, its founder and largest shareholder, became the richest man in the world with a fortune of US$95 billion. But readers may be surprised to find that Amazon-led online shopping is also rewarding the US jobs market.
It is quite clear that Amazon has been a home run (several times over) for its shareholders. In the past 5 years the stock is up almost 5-fold as revenues have tripled and Amazon now commands up to a dollar of every $2 spent online by Americans. At the same time the rise of online retail has squeezed traditional retailers and forced them to cut staff in order to stay in business – or have ultimately gone out of business. Yet Amazon has played its part in creating more jobs than have been lost.
Amazon share price last 5 years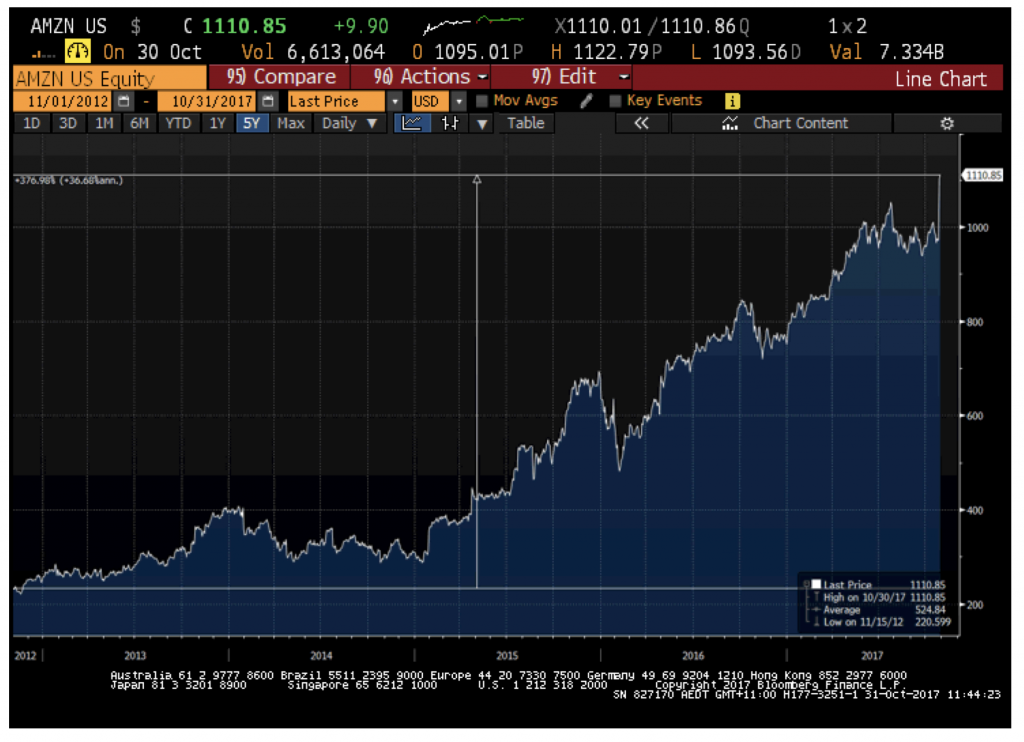 Over more than two decades since 1990, jobs at department stores in the US (an indicator of employment by brick-and-mortar retailers) and jobs at retailers without physical stores have more or less moved in lock-step. But about 5 years ago the trend lines began to diverge. Take a look at the orange line on the following chart. Since about 2012 department store jobs have fallen by almost 570,000 or 15 per cent. Some people think of this as Amazon eating up all the retail service jobs.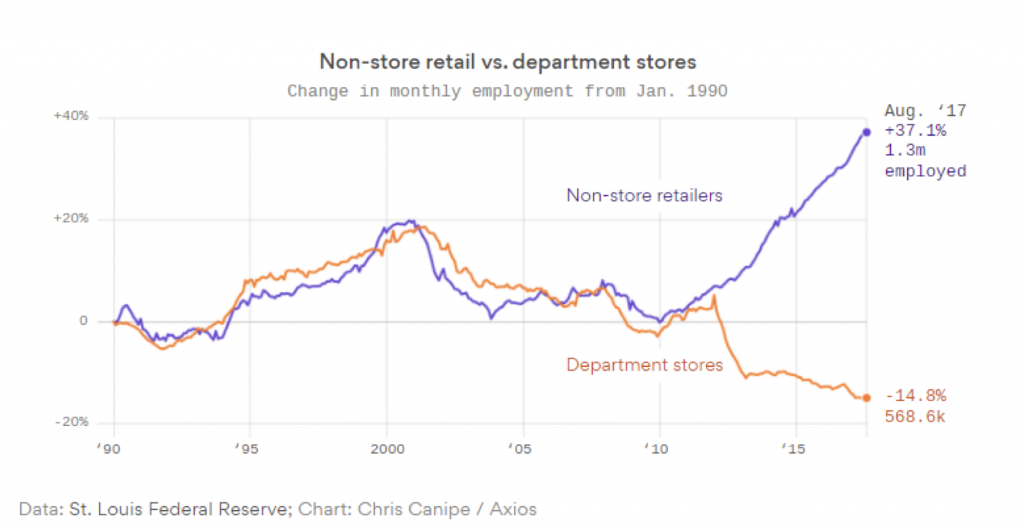 Now take a look at the purple line which shows the growth in non-store retail jobs – people in factories, warehouses, back-office etc. There have been more than 1.3 million of these jobs created in the past 5 years, far outpacing those lost in the stores. And did you know that Amazon itself now employs over half a million people? Which is more than 5 times the number of staff the company employed back in 2012.
We are happy to continue to own Amazon shares in both our global funds, rewarding our clients as shareholders, and participating in the rewards Amazon provides the US job market too.
The Montgomery Global Funds own shares in Amazon
---
---
---
---