---
A Tidal Wave Of Chinese Tourism
---
| | | | |
| --- | --- | --- | --- |
| | | | |
We recently wrote about the enormous multi-decade growth in middle-class spending that has started to materialize. We view this wave of growth as a wonderful tailwind for well-positioned businesses in the space. And we noted that around 85 per cent of said growth stems from the Asia Pacific region.
Well, today we highlight one such example of demand growth that relates to this global mega trend: growth in Chinese outbound tourism. Bernstein recently compiled a set of forecasts (shown below) that illustrate the structural growth of outbound trips by Chinese tourists over the coming years. This equates to an average of 7.6 per cent per annum growth in trips. Popular destinations include Hong Kong, Macau and other parts of Asia.
As travel picks up, so too does demand for flights. This year, around 550 million Chinese passengers took a flight. In 2020, this number will be around 775 million, annual average growth of 12.2 per cent per annum. Bernstein illustrates this structural growth in the chart below.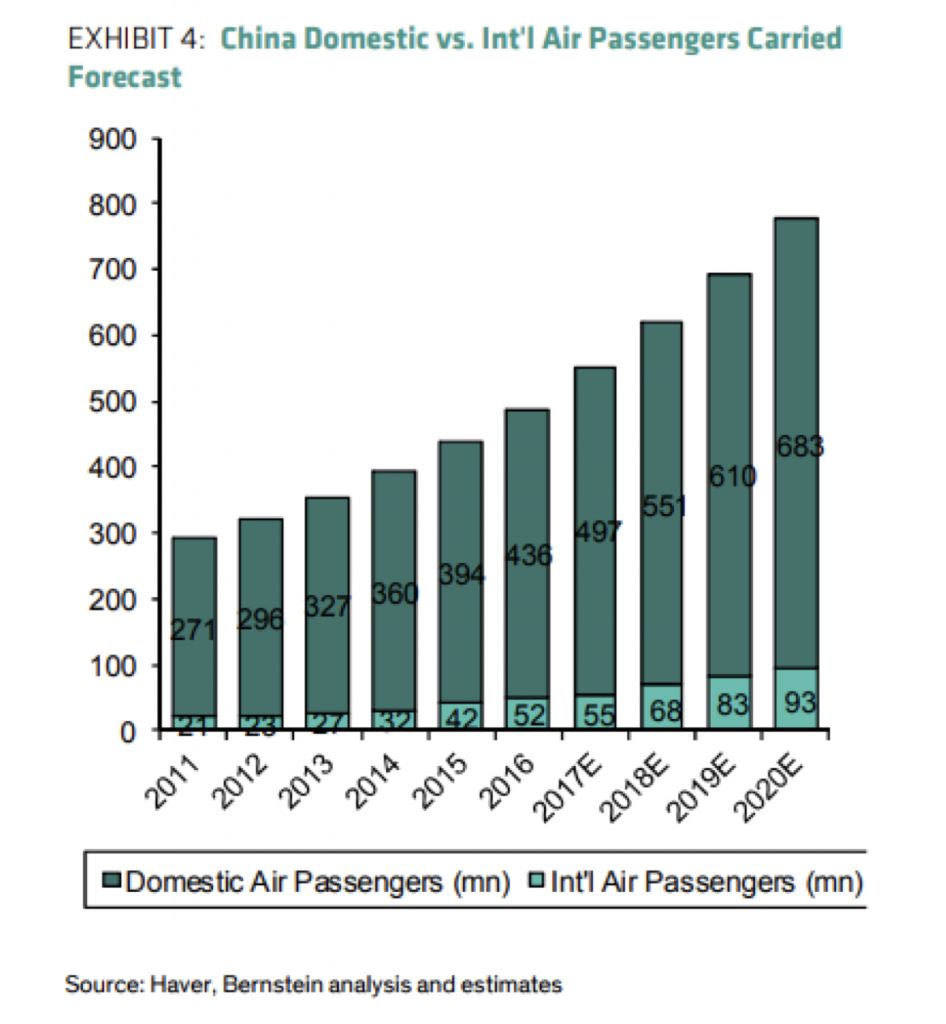 One business owned by Montgomery Global funds is TravelSky Technology (HKEx: 696), the Chinese global distribution system monopolist. TavelSky takes a cut of nearly every aeroplane ticket that is booked in China. TravelSky owns an unrivalled ticket distribution network of more than 70,000 sales terminals in more than 8,000 travel agencies across China. This network connects travel agents to more than 129 commercial airlines around the world for ticket distribution.
As Chinese middle-class spend grows and more flights are booked, TravelSky (and investors in Montgomery Global funds) are well positioned to benefit from this wonderful tailwind.
The Montgomery Global Funds own shares in TravelSky.
---
---
---
---