---
Market Still Clouded When It Comes To Oracle
---
| | | | |
| --- | --- | --- | --- |
| | | | |
On September 14 Oracle (NYSE: ORCL), the world's dominant provider of databases and a leader in critical applications for big companies, and a top 10 holding in the Montgomery Global Fund, reported its first quarter 2018 results. The results were strong and we were pleased with a reacceleration in earnings that has emerged after years of transforming the business model to a new cloud computing paradigm. Yet on the day the stock dropped almost 8 per cent. We think the market was just giving back a little of the 37 per cent year-to-date share price gain and still underappreciates Oracle's long run potential.
At the headline level Oracle reported revenue growth of 7 per cent and earnings growth of 10 per cent. Beneath the surface all key business lines continue to perform well. The traditional business of selling licenses to use software stabilised, the ongoing support fees that those customers pay to Oracle continued to grow, and the newer cloud business improved by 51 per cent (!) compared to this time last year.
Alas, this 51 per cent rise in cloud revenues may have failed to satisfy some short-sighted speculators who point to a slow down (funny to use this term when we're speaking of 1.5x increase in just a year) compared to growth rates of near 60 per cent the last few financial quarters. The company's guidance for the key cloud business in its second quarter 2018 was growth of 41 to 45 per cent and would not have deterred their argument.
For those investors that delve into the financial weeds and listen to each word of management commentary, however, there is good reason to believe that Oracle's cloud business will continue to grow strongly for years. Here are two such examples:
Oracle's cloud applications business grew 62 per cent in the quarter, albeit a slowdown from 67 per cent the last quarter. But at the same time, applications sold on license to customers (the "old way") halted their declining trend. For the first time we saw a rampaging cloud business that was not taking away from the good ol' licenses sales. This means sales of Oracle's applications grew a whopping 18 per cent in the quarter in a market place characterised by single digit growth. Oracle gained share regardless of which way its customers bought the product. Of course we think that cloud will win the majority of business over time even if the license segment has a good showing this time around. (Note that to get to this insight, investors need to read and understand the supplemental revenue analysis provided by the company on the second last page of the earnings release).
Oracle's cloud platform and infrastructure business (databases and development tools in the cloud) grew 28 per cent in the quarter. While also slower than the last quarter, management made a very interesting comment which leads us to believe a lot of the growth is pent up on the sidelines: "We're actually holding over 10 more points on the Platform as a Service (PaaS)/ Infrastructure as a Service (IaaS) right now because we've had a lot of orders and we are deploying them, and we'll only start recognizing them as they deploy". Over time this bottle-necked growth will come on line and growth will re-accelerate in this portion of the cloud business too. (Note again, that this comment was made half way through the management conference call in response to an adjacent question – so investors need to listen carefully).
At the current share price around $48 Oracle's stock is now trading on a valuation to earnings before interest and tax of 12x, or roughly an 8 per cent pre-tax yield that is growing at double digit rates per annum. For a world leader in critical software this seems cheap.
Said another way, as we always do, the current share price is implying that growth in Oracle's cloud business has rebased down AND will continue to slow significantly from here. Moreover, this implies that Oracle will fail to gain any further share of the enterprise software market despite having the most advanced technology, strongest go-to-market and stickiest customer relationships in the industry. In fact, that would be a reversal from the share gains Oracle is seeing today.
We take a different position to the market. We think the cloud business has the potential to reaccelerate rather than decelerate which will drive double digit profit growth and strong share price appreciation for many years to come.
Oracle share price performance is up year-to-date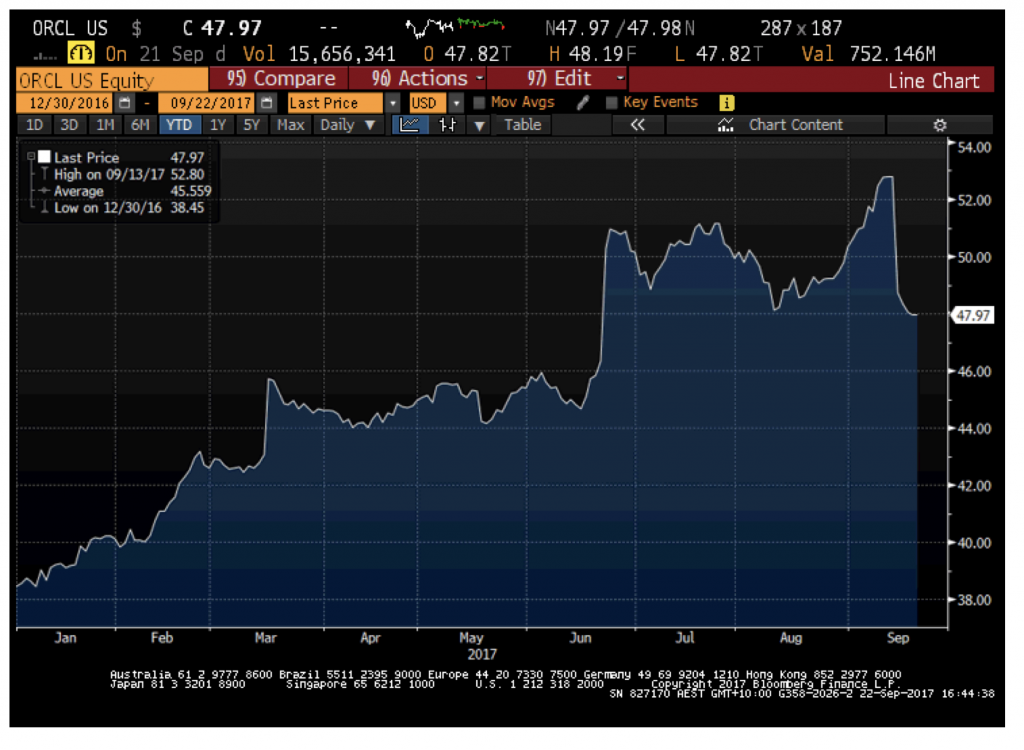 The Montgomery Global Fund and Montaka own shares in Oracle (NYSE: ORCL).
Are you looking for a simple way to invest in high quality global businesses? Find out about the new Montgomery Global Equities Fund – a simple way to gain global diversity. Listing soon. Find out more here.
---
---
---
---