---
Emerging Markets' Bond Yields In A Massive Bubble
---
| | | | |
| --- | --- | --- | --- |
| | | | |
An interesting piece of research from Macquarie Equities came across my desk, illustrating the massive bubble we are living through. Despite the chequered history of many Emerging Economies, the spread on the yield on their sovereign bonds relative to US Bonds has come down from seven per cent to three per cent over the past three years.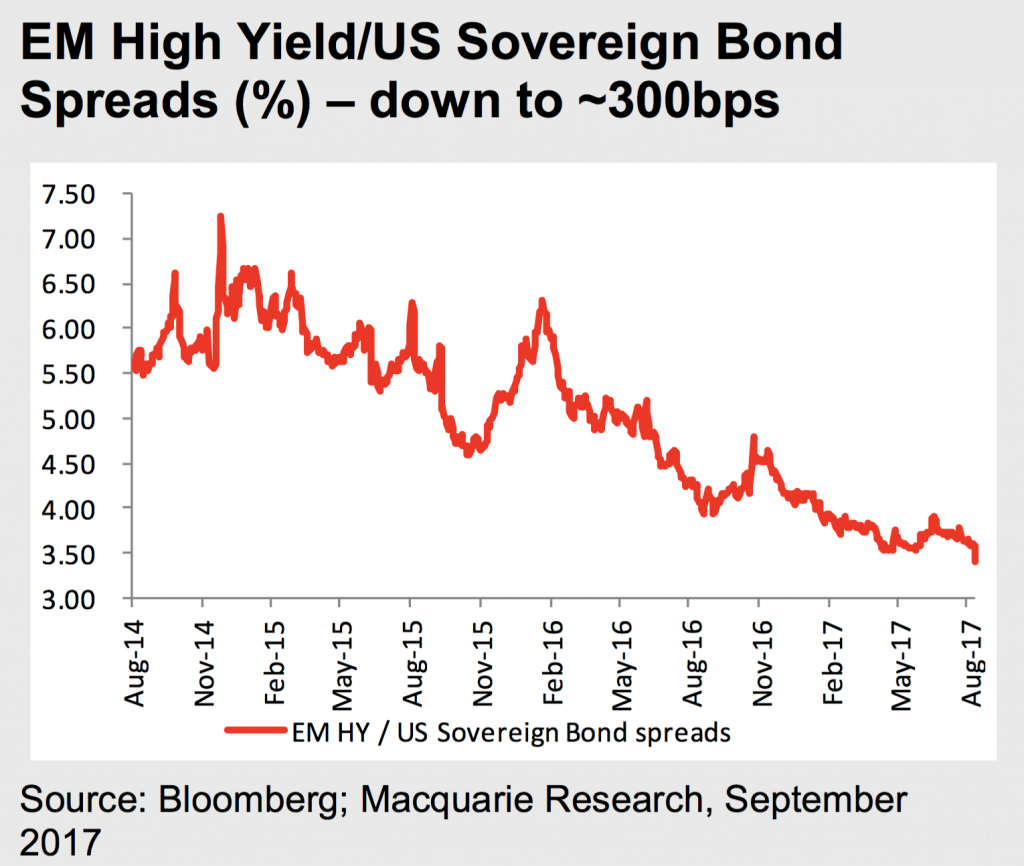 Examples of the massive bubble of Emerging Market bonds include Ivory Coast and Senegal 16 year bonds yielding 6.25 per cent; Ivory Coast 8 year bonds yielding 5.125 per cent, Argentina 100 year bonds yielding 7.92 per cent; Greece 5 year bonds yielding 4.63 per cent; Iraq 5 year bonds yielding 6.75 per cent and Ukraine 10 year bonds yielding 7.3 per cent. For context, US 30 year bonds are yielding 2.7 per cent while their 10 year bonds are yielding 2.2 per cent.
While Central bank policy-makers threaten to withdraw, over the next 12-18 months, their US$100 billion per month bond buying program, the market has consistently gotten the timing of this normalisation process wrong. Every time there has been an economic or market wobble, Central Bank tightening has been delayed.
And with US economic growth now in its 100th month, Central Banks have relatively little ammunition if the world ever slumps back into recession. This point is accentuated as Global Financial Instruments have, so far this Century, been growing at twice the rate of Gross Domestic Product (GDP) and are now sitting at three times GDP. Viktor Shvets of Macquarie Research claims "We seem to require at least $3-5 of incremental financial instruments for every $1 of nominal GDP".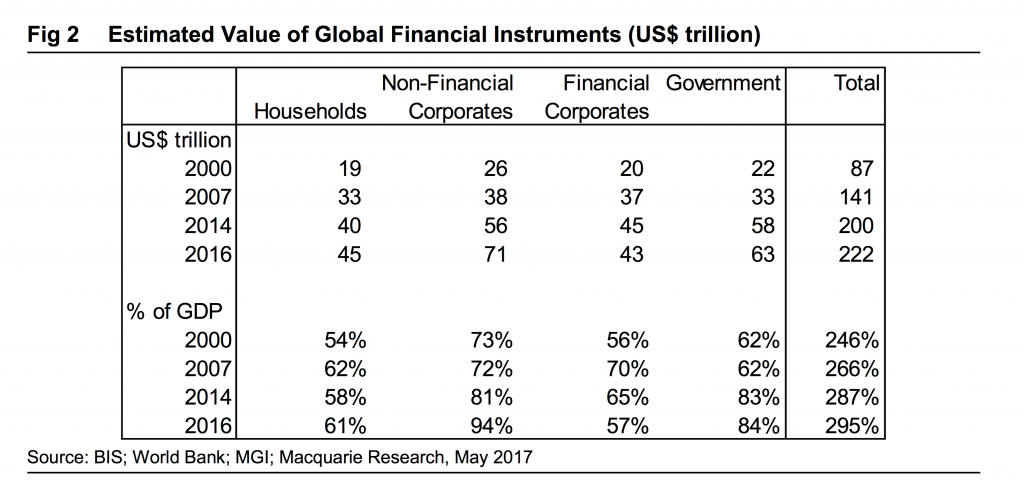 With the frantic search for yield, the bubble has extended to sovereign bonds from the Ivory Coast, Senegal, Argentina, Iraq and the Ukraine. Investors need to be aware of the prospect for a decline in the supply of global liquidity from Central Banks and this, combined with the threat of a rising US Dollar, would likely see the spread on Emerging Economy sovereign bond yields reverse very quickly.
---
---
---
---